Pakistani pioneer blossoms from wallflower to starlet for change
"I wanted to excel for myself and my community," says Rukkaya Hashmi of the Balochistan National Party. She had always believed that she had what it took to lead her people, but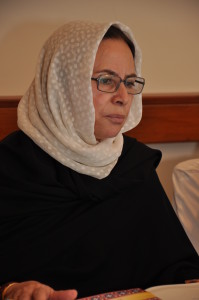 Rukkaya found she was never really heard or seriously noticed by her party's leadership. "It was during this time that I started to question my own capabilities," remembers Rukkaya. "The problem surfaced in political meetings and also in my efforts to reach the media."
In reality, there is no reason why Dr. Hashmi should ever question her abilities. She is a powerhouse,  the first to accomplish many things in Pakistan.
The first female doctor in the Hazara region.
The first to serve in uniform as army captain in the medical corps.
The first woman Member of the Provincial Assembly from her community.
The first to be appointed minister of the Assembly.
In the coming elections, she's the only woman candidate contesting from a general seat in Balochistan (one of Pakistan's four administrative provinces).
However, this accomplished woman felt like a wallflower in her own party and with the media.
Then Search invited Rukkaya to participate in a training on Effective Media Messaging, held as part of its "Strengthening Women Parliamentarians of Pakistan for Effective Government" project. She was encouraged by what she learned and participated in further training sessions. She courageously ventured out to test her new found skills on a few media persons, but her first attempts flopped. "I was convinced that it was never going to happen, and I almost gave up.  But one message of the training was to carry on and be persistent in my messaging," she recalls.
So she forged on.
It was a good thing she did because her training ended up changing her life and her career, Rukkaya explains:
"After the massacre in Hazara Town of Quetta, where hundreds of people were martyred in bomb blasts, I was shaken. I desperately wanted to speak up for my people and present solutions to both media and my party leadership. After the massacre, President Asif Ali Zardari visited Quetta and I managed to assemble a delegation of like-minded political leaders to meet with the president on his visit. We were surrounded by the media. They were continuously questioning. The person heading the delegation tried to answer. However, the media did not seem to be satisfied with those answers. In that moment, all the techniques I had learnt in Effective Media Messaging Training Workshop came into my mind. My courage emerged, and I started talking. Suddenly I was getting heard. I was the most prominent person in the crowd. That was shocking even for me but then I handled the whole situation very technically, applying all the tactics I was taught that could bridge the gap between media and a politician. The next thing I knew, I was leading my delegation and discussing the whole situation with the President of Pakistan!"
Rukkaya is now a prominent and leading politician in Balochistan.  Her efforts and services are always covered by the media. "In fact, now I feel more comfortable to communicate with the media and they feel the same," she says.  Read this article that was published just this last week by the Pakistani media featuring Dr. Hashmi, "Courage in Dangerous Times".